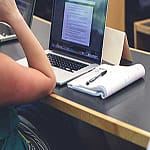 There are lots of successful women in business. But according to a recent article in the esteemed Harvard Business Review magazine, men still get more promotions than women. Surprising, isn't it?

While I won't get into the nitty-gritty of this surprising aspect in today's corporate world, I'd like to put forward 3 rules for women in business to succeed more at work:
Rule 1: Network, Network and Network.
Networking is essential if you want to move ahead in your career. Whether networking within the organization, across different departments, or outside the organization, building business relationships can help you arrive at the right place at the right time.
You never know who can put in a good word for you to give you a good career boost. So be on the lookout for mentors, or better, sponsors, who can push you in the right direction.
These persons (mentors/sponsors) can provide you with the psychosocial and career support you need, because most probably they've been in your shoes, and understand really well how to move forward in your line of work.
Sign up for workshops, even corporate training programs, to broaden your horizons and meet new people to network with.
Rule 2: Improve Your Business Image.
Your business image is what you wear, how you talk, what you write, how you behave, and so on – you get the gist, right? So be careful with your image – make sure you're communicating effectively, and being perceived in the right manner.
It's not so much about being seen with the right company, as much as it's about being seen in the right manner, so take an image review, if need be, just to make sure you're doing and saying the right things. And of course, don't forget to brush up your technical skills for an automatic boost to your business image.
Rule 3: Control Your Body Language.
Body language is an integral part of your image. It's so much, you should give extra attention to it, hence listed as separate rule in this list.
No matter what you're saying, your body language can give away your true feelings, if you're not being careful about it. Your body posture, the position of your hands, even the angle of the tilt of your head is ripe with some message you're unconsciously communicating to the other person.
These 3 rules will certainly make a difference in your professional image, and help you move forward in your line of work.
Love what you just read? Drop us a line in the Comments section below with your feedback – good or bad. If you have a question, or would like Ankitaa to blog about something in particular, try using the Contact Us page, or email here.