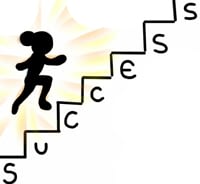 Your success is an important factor of happiness and satisfaction in your life, especially your success in business. But there's no easy way out to achieve success in life. Whether you own a business, or belong to the workforce of a huge corporation, your success usually comes at a price of hard work. However, you do need other factors to achieve the kind of success you want in your line of work. So far, we've discussed how utilizing your passion, avoiding procrastination, revamping your soft skills and being human can help you succeed more at work. In this final installation of the Top 5 Tips For Success In Business, I'd like to conclude with this final, if not most important, tip:
Step Out Of Your Comfort Zone
There are two points, actually, to keep in mind here.
First, don't just follow business procedures and practices simply because that's what your competitors are doing, or you've been doing that for years. Leave your comfort zone, and try out a radical new approach in your line of work. If it fails, you can always revert to your old ways, but what if it's a success? You'll learn something new, and obviously, you'll achieve an edge over your competition.
Next, always be ready for change. Whether changing technologies, or people working around you, you have to welcome change for you (and others) to grow personally. While I don't condone firing anyone at work for random reasons, I do recommend auditing your taskforce, or at least performing regular evaluations and taking necessary actions to streamline your organization or business.
And yes, this definitely puts you way out of your comfort zone. At this point, it's imperative to focus on improving your business, rather than considering the emotions of people you might cross in this endeavor. Change management can be a tough time for everyone at work. However, it is just as important. Adapting to change management is also quite challenging, so keep in mind to be equipped with change management best practices to help yourself and others around you cope better with such changes.
These were my 5 tips to build your success. Try these and you're sure to win every time. Good luck!
Love what you just read? Drop us a line in the Comments section below with your feedback – good or bad. If you have a question, or would like Ankitaa to blog about something in particular, try using the "Contact Us" page, or email here.