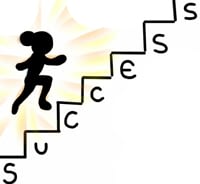 You've read about how passion for your work, and avoiding procrastination can help you succeed more in your business. And here's my next tip from the top 5 tips for success in business:
Revamp Your Soft Skills
Now I know "soft skills" can sound a little more intimidating than it really is. You've nothing to worry about. Soft skills are basically skills you already have. Like, how you behave with your boss (or your employees), interact with colleagues and clients, manage time at work, handle pressure, and so on.
All you have to keep in mind is to stay within your limits and follow office protocol. And here are some notes you can stick to while you're at your workplace:
(1) Admit your mistakes when you face the realization.
(2) Encourage others. Listen to what others have to say, keep an open mind, and compliment them for their good work.
(3) Avoid ego clashes. In fact, leave your ego behind, outside your workplace. This way you can handle any criticism coming your way in the right manner. And of course, when you do face any criticism, try to take corrective action.
(4) Maintain good standards with your behavior at work, the way you dress, your work ethics, and so on. Set an example for others to follow.
Follow these short notes above to revamp your soft skills. This will help you maintain a strong relationships at your workplace, hence build a healthy working environment. Consequently, such a healthy work environment can increase your productivity, as well as the overall efficiency of your organization.
Therefore, you can understand how revamping your soft skills from time to time can help you move forward in life, help you succeed more in business. And these soft skills will not only help you succeed in business, it'll also help you gain better relationships with others in your workplace.
Stay tuned for the rest of the 5 tips for success in business..
Love what you just read? Drop us a line in the Comments section below with your feedback – good or bad. If you have a question, or would like Ankitaa to blog about something in particular, try using the "Contact Us" page, or email here.