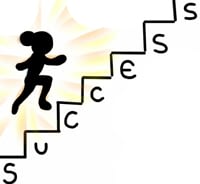 Success doesn't come easy. You have to work hard for it. No matter where you work – for your own business or for some company – you can achieve success only through hard work. You have to stick to the schedule, meet your deadlines, take decisions on time, and probably even work in stressful conditions to get the job done. It's particularly helpful if you already have a passion for your work, my first tip among the top 5 tips for success in business.
And now, the next tip I'd recommend you for success in business is:
Avoid procrastination
Always remember – the more you procrastinate, the more opportunities you'll miss. And I'm not just talking about the opportunity at hand. When you procrastinate, you are simply pushing away the opportunity at hand, as well as upcoming opportunities related to it.
For instance, when you are late in project submissions, your manager is most likely NOT going to assign you to any important high-profile projects at work in the future. Missing out on such projects can reduce your visibility among the important decision makers in your organization, hence affecting your chances at promotions and other perks.
The aftermath of procrastination is even more harsh for a business owner. Missed deadline will probably spell out missed sale, and of course missed sale means you can bid goodbye to that particular client forever. The stakes are a lot higher when you're self-employed, so it's best to avoid procrastination in order to achieve success in business.
However, don't confuse procrastination with planning.
Planning is an integral part of your business plan. You have to take out time to plan your work. In order to avoid missing sales and encourage returning clients, it's best to plan your work according to your business cycle. Find out how your business works –
Is there any particular time of the day when you receive leads?
Which days of the week do you expect any clients?
How do you schedule work when you're on vacation?
There are scores of questions you need to answer to plan out your work efficiently (Contact me now to help you plan your work). One way to do that is by charting out the amount of time you take every day on different tasks. By comparing these daily tasks over a period of time, you'll be able to understand how you can maximize your business cycle to earn more clients, and manage your time more efficiently not just at work, but outside work as well.
Put some thoughts in your business plan, set up automated systems, and kick procrastination out of the door. This planning can also help you enjoy your personal life, outside your workplace.
Read the next tip to increase your success in business..
Love what you just read? Drop us a line in the Comments section below with your feedback – good or bad. If you have a question, or would like Ankitaa to blog about something in particular, try using the "Contact Us" page, or email here.