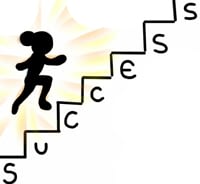 When you're in business, it doesn't matter if you're self-employed, or working for a huge organization. The only thing that matters is your success. You can't buy success, or wait around for someone else to plunk it down on you. And of course, no amount of flattery can lead you up the ladder of success. It's a known fact – you have to work for success. And here are the top 5 tips for success in business, which you can use to become more successful in your chosen line of work:
Tip 1: Make Your Work, Your Passion
Find out which aspects of your work triggers your passion, because having this passion will motivate you to go on, even when you face difficult times.
Now there are a few people who work for money. Money is an important part of your life, I understand. Some might even say money can motivate you to work harder. But without your passion, you simply can't go on with just the prospect of earning more money. Your passion can ignite your drive to work better, thus leading you to more success.
Having said that, there are still some people who are doing their jobs, only because they're qualified but not really passionate about what they do. But think about the number of times you've heard about someone popular who's doing something completely opposite to their educational qualifications.
Take Tom Cruise for example. He actually enrolled in a Franciscan seminary to study for priesthood at the age of 14. But fortunately for all Tom Cruise fans, he found his passion in acting, and the rest is history.
Yes, Tom Cruise found his passion quite early in his life. I understand some people can take longer to find their passion. But the fact remains, you can only be successful at something you are passionate about.
If you're not satisfied with your line of work, or feel you are destined for something different, it's never too late to find your passion. An experienced image consultant can work wit you to help you discover hidden talents, uncover your passion, and help you on your way to success.
Click here for the rest of the 5 tips for success in business..
Love what you just read? Drop us a line in the Comments section below with your feedback – good or bad. If you have a question, or would like Ankitaa to blog about something in particular, try using the "Contact Us" page, or email here.