As a freelancer, I keep a look-out for tools and apps that can make my life easier. This RescueTime review shows how I manage my time more efficiently. More importantly, minimise distractions that can keep me from working on the real jobs.
One such application that has helped me a lot to increase my productivity at work is RescueTime. As my way of thanks to the great people behind this amazing tool, here's my RescueTime review.
What I love
I use the free plan, which includes:
tracking my time spent on websites and applications,
setting and tracking my goals,
receiving a weekly email report illustrating my time spent in different categories that I've set up.
And it also shows me a history of my reports for the last 3 months. I think I can live with that!
But there are other awesome features available too!
Like, tracking your work time spent away from the computer like in meetings, phone calls, etc. You can also turn on alerts to ensure you are achieving your daily goals, as well as keep a log of your daily accomplishments. And what's more, you can block websites that are found to be distracting for you!
The Premium features really bowled me over, but truthfully speaking, the paid version is NOT for me because my entire work is in this computer I'm using. If I'm not on my computer, I'm just not working. Simple. So the free plan works out best for me.
Here's a snapshot of the weekly email I get: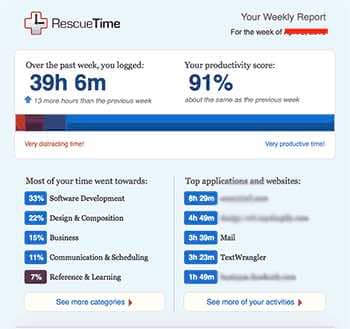 There's more information in this email that really helps you understand how you can optimise your time management and increase your productivity at work. And these emails are so great, I haven't visited the actual RescueTime dashboard on their website for months!
What Can Be Better
Before I continue with this RescueTime review, I would like to mention that you do have to download a light application and install it locally on your computer to get started with the RescueTime monitoring service. Once installed, you don't have to deal with it ever again, but some users are suspicious of that tiny application residing in their computers all the time.
I trust the RescueTime people. I haven't had any issues with privacy at all. But if there's a possibility to skip this download-and-install step, I think people would be more open to this application.
Also, people I know have cribbed about RescueTime being a little bit pricey. I can't be a judge of that, because RescueTime does offer a 14-day free trial. If it turns out you don't really need these advanced features, like it happened in my case, you can always choose the free plan.
One personal pet peeve of mine is whenever RescueTime registers a new website, it automatically categorises it as "Uncategorized" and "Most Distracting". This has, in the past, messed up my time management analysis.
My suggestion would be – if a new website is encountered, maybe I can get an alert to categorise it in the right manner, instead of marking that time as "most distracting" which affects my daily goals.
Here are my suggestions to make your RescueTime experience even better:
» After the signup, download and install step, spend as much as you can to customise your dashboard, and the categories. I work in Social Media Marketing, so while RescueTime by default marks Facebook as "highly distracting", it's essentially "highly productive" in my case.
» Set your daily goals for productive time as well as distracting time. These can keep changing, depending on your work load, and holidays.
» Monitor the first few weekly emails to further customise your categories and goals. This helps RescueTime understand your work better, and provide better analytics data for your usage.
» Save your weekly emails to analyse your time more carefully. Once you have more than a month's worth data, you can do a quick analysis of your time within a spreadsheet with data from these emails. See which websites are proving to be distracting. Is there anything unexpected showing up? Maybe you misconfigured any category? Understand how you need to prioritise your work to achieve your daily goals.
In Conclusion
RescueTime is the best time-monitoring app I could find to manage my time for free. I get my time stats down to the last second, and analysing this data helps me manage my time more efficiently to increase productivity at work and be more successful online.
You can do a lot with this time-monitoring app. And I do hope you can use my RescueTime review to get a hold of the app and use it to increase your productivity at work.
Share with me what other methods and tools you use to increase your productivity at work. Leave your comments below.
Check out my other articles on Freelancing.