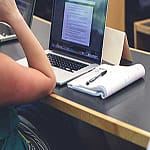 If you're a female entrepreneur looking forward to make your business a success, take a look at these 3 deadly mistakes women make in business. Avoid these, and you're halfway on your path to glory.

Poor Professional Image
Your image is your identity to the world. At your workplace, it decides who wants to work with you, hire you, or simply network with you. Hence, it's essential to build a strong professional image.
Your image is a combination of your physical appearance (how you look, dress, carry yourself around others, etc.), behavior (how you communicate – verbal and non-verbal, your manners, etiquette, etc.) and personality (your attitude towards your work, time management, how you interact with others around you, and so on).
A poor professional image can hamper your business, and your career, by distracting others around you to view your flaws like bad dressing sense, personal grooming issues, and so on, instead of strengths like your talent, technical skills, etc.
Lack Of Negotiation Skills
If you're not comfortable negotiating with your clients or customers, it's best to hire someone who can. This is more essential if you're particularly bad at negotiating financial details with clients.
You simply can not trust your clients to pay on time on their own. You have to make sure business processes are in place to make sure you are indeed paid on time.
No "Me" Time
If you don't invest some time for yourself, it's more likely you'll burn out at a much quicker pace than expected. So don't feel guilty to pencil in a vacation time every few months to make sure you can take a step back from your business and come back with a refreshed point of view.
A little break away from business can help you catch up with your personal life. It will also help you relax your mind, pushing you away from the daily stress of work. And of course, once you're back, you're going to be full of ideas on how to tackle your business even better.
In Conclusion
As a woman entrepreneur myself, I have grown to learn from my mistakes. It's difficult, and you do need the support of your family and friends to push you forward. But if you can rely on your decision-making skills, feel confident about the choices you make, and really learn from your mistakes constructively, you're definitely good to go.
Love what you just read? Drop us a line in the Comments section below with your feedback – good or bad. If you have a question, or would like Ankitaa to blog about something in particular, try using the Contact Us page, or email here.