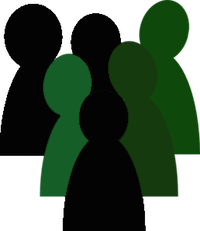 In this post, we'll discuss how to conduct a business presentation successfully. This is in continuation to my previous post about Effective Communication Skills for Professionals.

To create a niche for yourself in your profession, you have to learn how to be understood and you're halfway on your path to success. When you are preparing for a business presentation, follow these basic tips below to improve communication between you, the speaker, and your audience.
The first step is to create your business presentation keeping the following points in mind:
* Content – Research the topic of your presentation thoroughly. It will help you in creating a well-structured presentation, as well as keep you informed to answer any questions your audience might ask. It is a good business practice to plan a few minutes extra to take questions from your audience.
* Expression – Stick to one topic per presentation. Don't add any extra detail to it. You will waste time, and end up confusing your audience.
Start practicing when you have your first draft. Ask for feedback from your friends or colleagues, and make changes accordingly.
On the D-Day, keep the following presentation tips in mind while giving the presentation:
* Your position – Start your presentation after taking the position (sitting or standing) facing the audience. Don't start before or while you take position.
* Your body language – Your facial expression should be pleasant and smiling. Make eye contact with everyone during the presentation. Use your hands to explain, or keep them hanging on the side. Avoid shuffling from one foot to another. Stand comfortably with body weight equally on both feet.
* Your mannerism – Be confident while delivering your presentation, even if you are not actually feeling it. Practicing before the D-Day helps in feeling more confident. Avoid clearing your throat, smacking of lips, frequent use of words/lines "you see", "I mean", "OK", breaks such as "Ah" and "unh", etc.
* Medium of communication – Stick to one language, preferably English, during the presentation. It is a good business practice to avoid the use of slang, or regional dialects.
* Command over language and delivery – You should speak clearly, slowly and fluently to avoid any confusion in your audience. This helps to improve communication between you and your audience.
These are some good business practices to improve your presentation skills. Practicing these presentation tips will improve your presentation skills, and help you communicate more effectively. To learn more to improve your business skills, and succeed more at work, use our Contact Form.
Love what you just read? Drop us a line in the Comments section below with your feedback – good or bad. If you have a question, or would like Ankitaa to blog about something in particular, try using the "Contact Us" page, or email here.