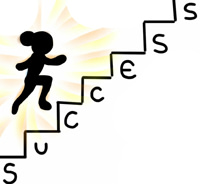 When you want to be successful at work, body language is something you just can't ignore. Body language is all about the nonverbal signals you send out intentionally, or unintentionally. And most times, you can be misinterpreted based on bad body language, which can turn out to be quite disastrous for your reputation at work.
So here are the 4 most important body language tips for success at work:
1) Mind The Head Tilt.
Head tilt is actually a good body language sign. It means you're involved and listening to what the other person is saying. But too much head tilting can come across as submissive behavior, projecting you as a meek person. Try to tilt your head, or nod, as little as possible to show you're indeed listening to the other person. If you have a habit of tilting your head too much, then make direct eye contact instead.
2) Avoid Smiling Too Much.
Smiling is again a good body language technique. It means you're being friendly. But too much smiling can injure your credibility, if not downright confusing for the others dealing with you. If you have a tendency to smile when nervous, avoid dealing with people directly. Instead, send a memo, or an email.
3) Go For A Firm Handshake.
Firm handshake represents your high level of confidence. While I'm not suggesting you twist the other person's hands to prove your high confidence, do go in for a firm handshake. First, face the other person (male or female), extend your hand to fully grip the other person's hand and give a firm shake. Touching fingers is not a professional handshake. And do remember to wipe your hand, if you're sweating for some reason.
4) Never Flirt.
Flirting at work, with your workplace buddies, clients, anyone related to work is a big NO. You should avoid flirting of any form – smiling suggestively, leaning forward, tossing your hair, etc. And when it comes to flirting at work, be extra careful in your written communication too.
Learn more tips and techniques with our business image consulting solutions to boost your professional image at your workplace, and be more successful at work. Contact us now.
Love what you just read? Drop us a line in the Comments section below with your feedback – good or bad. If you have a question, or would like Ankitaa to blog about something in particular, try using the "Contact Us" page, or email here.