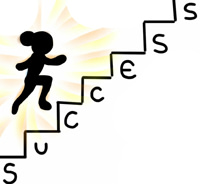 If you're looking to receive any interview calls, your resume needs to stand out. However, it doesn't mean you have to try out any gimmicks to capture the attention of the recruiter or hiring manager. Use these 2 simple tips to stand out with your resume..

Seriously, no pink paper, perfumed paper, or cramming too many font styles into one sheet of paper! Simply try out these 2 simple tips to stand out with your resume:
1. Use Keywords.
Keywords are basically words and/or phrases related to the job title and description you're designing your resume for. For instance, if you're applying for the job of a database programmer, the following are some of the keywords you should include in your resume:
database programmer(of course!)
star schema
snowflake schema
database optimization
database schema
Now don't include all the above-mentioned keywords, just a few will do. And do keep in mind not to throw around these keywords randomly. Use them only when it makes sense to you as a reader.
What happens is reading each resume individually is not an option for recruiters, or hiring managers. So your resume is probably being scanned electronically, or manually. In either case, the relevant keywords will stick out in such a scan, and hence, you'll definitely receive a call-back, maybe even an interview-call.
2. Learn Self-Promotion.
To stand out among the scores of resumes competing against yours, you need to do a little self-promotion. It's not arrogance, it's a necessity. You have to "sell yourself" to let the other person know what a great candidate you are for the proposed job.
For instance, don't just say – "Conducted online sessions to train sales personnel."
Instead, say – "Coordinated webinars (online seminars), designed to train sales personnel for higher lead conversion."
If you compare the two statements above, it says the same thing but the latter sounds more impressive than the former, don't you think?
Using these two tips will guarantee you a good resume. I mean, you'll definitely receive an interview call for such an eye-catching resume. How you manage the interview is a whole different story.
Love what you just read? Drop us a line in the Comments section below with your feedback – good or bad. If you have a question, or would like Ankitaa to blog about something in particular, try using the Contact Us page, or email here.
[email_link]